INDUCTION return with 12 progressive symphonic metal anthems and catchy earworms.
Limited edition yellow-red marbled double vinyl in a lush gatefold.
Tracklist:
Side A:
1. Born From Fire
2. Scorched
3. Fallen Angel

Side B:
1. Go To Hell
2. Embers
3. Order & Chaos

Side C:
1. The Beauty Of Monstrance
2. Queen Of Light
3. I Am Alive

Side D:
1. Ghost Of Silence
2. Eternal Silence
3. Sacrifice (Bonustrack)
Welcome to the new era of INDUCTION!
Join us in experiencing mystical prophecies, heartfelt stories, outraged rebellion and the lust for life on the band's sophomore full length album "Born From Fire", that will see the light of day on November 25th via Atomic Fire Records.
Originally founded in 2014, international symphonic progressive metallers INDUCTION left their first mark with the single 'The Outwitted Consecration' (2016) before completely entering the metal world by releasing their self-titled debut album in 2019. Its enormously positive reception even paved them the way to touring across Europe alongside Brazilian power metallers ARMORED DAWN in November of the same year. It was a notable career start for the quintet that was abruptly halted by the still ongoing pandemic, but the highflyers used the time at home to regain their strength and record this sophomore chef d'oeuvre.
After signing to Atomic Fire Records in early 2022 and releasing the first two stand-alone singles to get the hype going, the combo now unleashes "Born From Fire", filled with 12 progressive symphonic metal anthems and catchy earworms, once again mixed and mastered by none less than Jacob Hansen. As the world is scorched by flame and consumed in chaos, hope is born, forging the new path to mankind's everlasting paradise. Stories of distant worlds welcome you to rethink how we live today.
"We tried to deliver a good mix of big hits, great melodies, emotions, brutal anger, intricate riffs and arrangements as well as a ton of fun while listening. We are sure this album will convince old and new fans alike of what INDUCTION means and we sincerely hope that everyone finds themselves in some of the songs… ", describes guitarist and mastermind Tim Kanoa Hansen.
Graced by a cover artwork from Peter Sallai (Sabaton, Jinjer, Powerwolf), "Born From Fire" shows the band with its strong new line-up and ready to finally hit the road and take their hymns to the stage again. Only one day before the release, INDUCTION will therefore join Serious Black on a 16-dates strong tour through Europe, to present their new tracks live for the very first time.
INDUCTION is:
Craig Cairns - Vocals
Tim Kanoa Hansen - Guitar
Marcos Rodriguez - Guitar
Dominik Gusch - Bass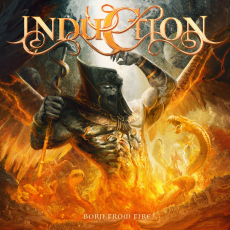 Customers who bought this product also bought the following products:
This Product was added to our catalogue on 09/09/2022.